2021 Bowfinger Hunting Products Top Picks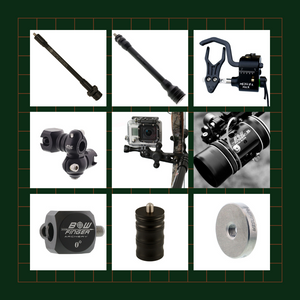 We've got you covered for bow season!
Bowfinger's Top Picks for helping you achieve the best bowhunting season and most successful harvest you've had yet!
 XL HUNTER STABILIZER
Our best selling hunting stabilizer, the XL Stabilizer will give you a more forgiving setup and better pin float which will lead to tighter groups and tack driving accuracy. The XL stabilizer incorporates tournament grade carbon with a tough epoxy painted finish providing extreme, unmatched durability.
The XL Stabilizer comes with two, 2oz weights, a Limbsaver Broadband dampener and matte black anodized end caps. Lengths offered: 8, 10, 12 & 14 inch.  $84.95 MSRP
ULTIMATE HUNTER STABILIZER
 Engineered to provide exceptional stabilization, quiet and balanced shots and improved accuracy while not breaking the wallet. The Ultimate Hunter Stabilizer is made of extreme rigid carbon fiber and contains our proprietary "after-shock" internal dampener. Most recently the carbon was updated to incorporate the tough epoxy paint of the rest of Bowfinger line of stabilizers providing years of durability. While an extremely durable stabilizer it is the best bang for your buck.
The Ultimate Stabilizer comes with one, 2oz weight and one, 1oz weight, and anodized end caps. Lengths offered: 6, 8 & 10 inch. $69.95 MSRP
The MEDUSA MAX
The Medusa MAX Arrow Rest is "Built Like A Tank" as one customer said. The rest being heavy duty, lightweight and incorporating a compact design makes it a popular choice among archers. The Medusa stays up on slow let down and drops away only when bow is fired. The rest also provides zero bounce back, total fletching clearance and full arrow containment. It also has a unique de-cocking lever for easy arrow removal. The Medusa MAX is made of precision CNC machined durable metal components and comes with a lifetime warranty. (all hardware included) $149.95 MSRP
THE ULTIMATE FRONT SIDE BAR MOUNT
The G.O.A.T. of all stabilizer mounts, The Ultimate Mount not only provides balance for your bow while hunting but has become the top choice among archers due to its durability. The Ultimate Mount offers a compact sleek design, built in quick disconnects, engraved easy to read marking lines and a new stronger positive-locking double clamp system for unmatched durability. The Ultimate Front Mount (item#4261) is a popular choice among hunters as it allows you to mount one bar from the front and another off to the side of the mount to help counterbalance the weight of your bow while hunting. (all hardware included) $109.95 MSRP
ZX5 CAMERA MOUNT
The ZX5 Camera Mount provides an easy and quick way to get quality filming while you hunt. The mount is made of cnc machined aluminum, has two mounting holes to mount your camera and is drilled and tapped to offset your stabilizer to counterbalance the camera. (all hardware included) $34.95 - $39.95 MSRP
THE 20/20 SCOPE
The 20/20 Scope offers more options and customization than any scope on the market. Most archers say they can see their pin better than ever before with the 20/20 Scope. While the 20/20 has been very popular among the tournament scene most archers switch to a single pin for a slider sight setup for hunting season with the 20/20. All 20/20 components are interchangeable with matching threads which allows you to customize your scope how you like it. The 20/20 pin groove keeps the pin straight and fiber behind the pin. The 20/20 has 8 pin mounting positions and a 5/16 mounting slot which accepts a hex or square mounting shaft making is compatible with most sights on the market. (all hardware included) $159.95 MSRP
 THE ULTIMATE QUICK DISCONNECT
The quick disconnect allows you to remove your stabilizer in one quick ½ turn and saves on the threads in your riser. The Ultimate Quick Disconnect won't vibrate loose, is CNC machined aluminum and includes a mounting screw. Available in 0° and 10°. This item is a must for every archer. $29.95 MSRP
10oz STAINLESS STEEL WEIGHTS
The stackable weights consist of four separate weights, 1oz, 2oz, 3oz and 4oz that are fully interchangeable for the exact weight you need. This allows you to make changes at 1oz increments. (mounting screw included) $49.95 MSRP
 TUNGSTEN WEIGHTS
Tungsten Weight allows you to add more weight at a shorter length. We offer tungsten weights in 3oz, 2oz and 1oz. $14.95 - $34.95 MSRP
ALL BOWFINGER PRODUCTS ARE MADE IN THE USA AND COME WITH A LIFETIME WARRANTY. PLEASE CONTACT US TO FIND A DEALER NEAR YOU OR TO FIND OUT MORE ABOUT OUR PRODUCTS.
3 Responses
Leave a comment