SHOOTER SPOTLIGHT WITH BRADY HEMPEN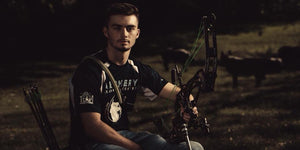 Anyone that knows Brady knows what an avid competitor he is and that he gives 110% at everything he does, which has shown to pay off for him in the sport of archery. Brady already has numerous archery acheivements; from Winning 2018 Shooter of the Year in Known 50, setting a world record in the Adult Freestyle Class with a 686/690 score and most recently taking 2nd in Known Pro in a 5-way edge-of-your-seat shootout, just to name a few. Outside of archery, Brady is also a 4.0 senior in high school planning to start college in the fall. We can't wait to see what the future holds for Brady as we know he will only continue to impress.
 Brady is 18 years old from Paducah Kentucky, currently shooting Known Pro Class at the ASA Pro/Am events and Men's Pro Class at NFAA events.
Current Equipment:
Bow: Hoyt Prevail 37 with SVX Cams
Sight: Axcel  XP Carbon Achieve
Scope: Bowfinger 20/20 + Clear Targets Lens
Rest: AAE Freakshow
Stabilizer: Mod King SD 30" Front with 9oz of weight & 12" Back Bar with 18oz of weight
Side Bar Mount: Bowfinger Ultimate Rear Riser Mount
Arrows: Gold Tip X Cutters with 140 Grain Tips
Release: T.R.U. Ball HBC Quicksilver
Strings: Threadz Custom Bowstrings
What advice would you give to someone just getting started in archery?
Just learn the basics and have fun!  See if you even have a passion for it at first. If you do there is always time to learn and get better. If you find it is something you love get with a good coach, and let them help you build good habits so you don't start off wrong and build problems you may have to work through later on. The problem with archery is that most shooters are self- taught without proper guidance. 
How long have you been shooting?
I started shooting with my dad at local 3D shoots at 3 years old. I've had a bow in my hand for as long as I can remember. Bow hunting and competing in archery have always been my passion in life. I guess I've been shooting for about 15 years now!
How did you get interested in shooting archery?
My dad is the one that got me interested in archery. He's always bow hunted and competed in local 3D shoots and would always bring me along with him. Pretty much the things we love the most are bow hunting and competing at shoots!
Do you have any other activities or hobbies you like to do outside of archery?
When I'm not shooting I'm usually hunting. I've played football and baseball when I was younger but never had the passion for it like I did archery. I also wrestled in school for a few years. I started doing Gracie jujitsu, judo, and boxing at 8 years old and still do that to this day
What is your favorite archery moment of all time?
I have so many favorite archery moments it is hard to pick just one. Last year shooting in the Known 50 class at the ASA events at 17 years old and winning four of them and getting shooter of the year was a big accomplishment for me. It really boosted my confidence for this year shooting in the known pro class. I also won the NFAA Indoor Nationals this year which was my last event as an amateur before turning Pro. I've been trying to win that event for years, but it has always eluded me! That tournament is so hard to win and unlike ASA events that one only happens once a year. Winning that was a huge accomplishment for me and I'm very proud to have won the coveted Silver Bowl.
What is your favorite archery tournament to shoot?
My favorite place to shoot is probably the ASA event in Metropolis Illinois.  It's only 20 minutes from my house and it was always one I've shot even before I started traveling to all the other ASA events. I'd also love to try the NFAA event in Redding California, hopefully I can attend that one in 2020! 
What has been one of your biggest problems when trying to make a shot that you have tried to work through?
 I've had two major problems since I have been shooting. The first was giving up a trigger release and learning to shoot a hinge style release. With my trigger release I dealt with anticipating the shot and never scored very well. Whenever I competed with the higher level of competition of my age class, I would never get past being in the middle of the pack. I was never able to win or even podium. My dad made me learn how to shoot a hinge. I took several weeks and learned how to shoot one and it was the best thing I've ever learned how to do in my archery career. The first shoot I went to was the Kentucky State Indoor Shoot,  and I took first place.  I believe at the time set a record in my class. After that to be honest I started to win almost every event I went to. It was an unbelievable game changer for me! 
 The second problem I have dealt with was shooting indoor events this year and learning about the mental part of archery. When I was younger I just shot my bow and never thought much about my shot process. I would always worry about the score, what people thought, and I'd allow the most random craziest thoughts to pop into my head while shooting. This year I've finally learned to think about my shot process when I'm shooting, which keeps my mind busy so random thoughts don't pop into my head at the time I'm shooting. It's only under extreme pressure where I saw this problem and luckily I got some good advice from great shooters to help me learn this major step. It took totally falling apart at the Vegas shoot this year to see how big of a problem this was for me. Failures can be the biggest learning experiences in your life. Of course it really sucks at the time but it has helped me tremendously shooting in the pro class this year. The pressure there is more intense than what I've dealt with in the past. I'm sure I still have a lot of work to do with my mental game, but I feel I'm at least going in the right direction now.
What do you love most about archery?
What I love most about archery is probably the competition. I'm a very competitive person and just truly love competing at something I'm so passionate about. I also love meeting new people and seeing people I've known for years now, that I only get to see at these shoots. I've met so many awesome people through archery and the outdoors in general. Every event for me is like hanging out with good friends and just shooting our bows.
What is your favorite Bowfinger product and why?
It's hard to say what my favorite Bowfinger product is. I believe 100% that they make the best and strongest mounts in the business.  I think you could do a pull up off my side bar and the mount would never move. I've shot their stabilizers for years and have never had one problem with them. Besides helping cut down the vibration of my bow I really like the stiffness of the bars also. This year I tried the new 20/20 scope and it is amazing. I put it on before I went to the ASA event in Paris Texas and took 2nd place in the Known Pro class which was only my third shoot as a professional. I also have to say the people at Bowfinger are as good as they come. They attend all of the ASA events and they compete in them as well. They answer all of your questions and help you with the best set up for your bow. They care about the customer and stand behind their products as well. Steve, Jeff, JoJo, and Mike have always treated me like family and I consider them very good friends. I'm very proud to help represent the Bowfinger company! 
74 Responses
Leave a comment